Rustic Faux Stump Side Table【Presale】
Regular price
$109.00
Sale price
$89.00
Save

$20.00
/
---
|DESCRIPTION
This product is the pre-sale product will shipping within 15 days,delivery 15 days,you could expect to receive the product within 30 days.

【Product Features】Waterproof, sun-proof, anti-cracking, anti-termite

【Multifunction Side Table】Keep snacks and beverages handy or display knickknacks atop this morden coffee table. This side table will perfectly fits in a living room, family room, or outdoor patio to makes the messy area becomes orderly.

【Stable & Easy Clean】A durable concrete frame offers a sturdy base with clean wood grain structure for a contemporary end table. Ensure the stability and firmness of the table to the greatest extent. Distressed surface coated with a waterproof layer can be easily keep clean with a wet fabric.
【Unique Design】Features a brown MgO top polished design with a sealed stump shape base. This side table beautifully marries form and function and will give a fresh new look to your home.

【Environmental Friendly】 No trees were felled in the production of this versatile piece of furniture. It can be said that it is very environmentally friendly!
|DETAIL
Item:
IOC006
Material:
MgO Composite

Size:

14.4"L x 13"W x 16.9" H

Weight:
18.7 lb
Package Include:
1PCS





Care and Maintenance:


 

Requires open-hole installation
It is forbidden to contact the paint surface with strong acid substances.
Hammering and heavy falls are prohibited.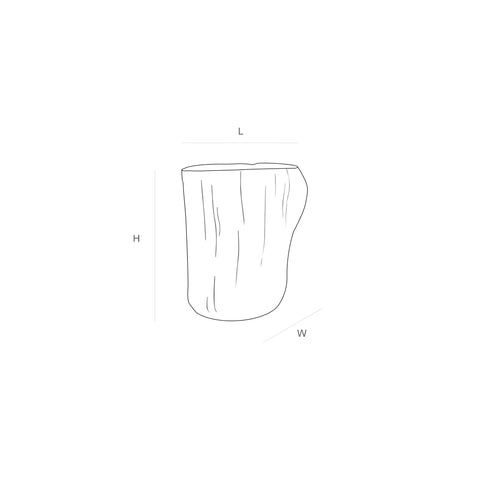 |RECOMMENDED BUY
SIMPLICITY DESIGN WOODEN STORAGE TRAY
We have comprised below a shipping policy based on ensuring you get competitive rates for your order alongside fast delivery from our worldwide fulfillment centers, with global logistic brands you trust.
Where do we ship?
We ship worldwide! We offer all orders except APO/FPO/DPO Addresses.
Shipping methods & charge fee
Currently, we offer two shipping methods.
1. Free Standard Shipping  ( Limtied Time Free shipping )
Country

 

 

Shipping times

 

 

Shipping charge

 

 

United States

 

 

 

 

$ 0 / $10.00

 

 

Europe

 

 

1-3 Weeks

 

 

$ 0 / $7.00

 

 

Middle East

 

 

1-3 Weeks

 

 

$ 0 / $11.00

 

 

Australia

 

 

1-3 Weeks

 

 

$ 0 / $7.00

 

 

Southeast Asia

 

 

1-3 Weeks

 

 

$ 0 / $13.00

 

 

Canada

 

 

2-6 Weeks

 

 

$ 0 / $19.00

 

 

 

 

3-5 Weeks

 

 

$ 0 / $19.00

 

 
Please note that most orders ship within 2-3 working days. Merchandise will arrive in approximately 2-4 weeks. Once parcels are shipped, you will immediately receive an email with the tracking number.
2. Express Shipping
Country

 

 

Express times

 

 

Express charge

 

 

United States

 

 

5-10 Days

 

 

$ 39.00

 

 

Europe

 

 

5-10 Days

 

 

$ 39.00

 

 

Middle East

 

 

5-10 Days

 

 

$ 39.00

 

 

Australia

 

 

5-10 Days

 

 

$ 39.00

 

 

Southeast Asia

 

 

5-10 Days

 

 

$ 39.00

 

 

Canada

 

 

10-15 Days

 

 

$ 39.00

 

 
We always provide best service for you!
If you have specific requirements for the date, please contact online customer service or email us at hghom@outlook.com, we will reply to you ASAP to meet your demand.
1.What does pre-sale product mean?
Commodity pre-sale refers to the activity in which the merchant publishes the commodity information in advance, and gives some preferential pre-order policies, and the customer pays the deposit in advance for the purchase. HGHOM's pre-sale products refer to the new eco-friendly magnesia furniture series. You can buy your favorite magnesium oxide furniture series products in the HGHOM online store. After placing the order, the estimated production time is 30 days, and the products will be dispatched from the warehouse after 30 days. The estimated logistics and transportation time is 35 days, and it will take a total of 65 days. You can receive to this product.
HGHOM's new eco-friendly furniture series uses magnesium oxide material to reduce the impact of non-degradable waste on the earth and our lives, we are committed to finding the most practical and environmentally friendly materials and designs to deliver a healthy, elegant and eco-friendly lifestyle. Magnesium oxide is the best choice for outdoor furniture due to its all-weather, low-maintenance advantages. Magnesium oxide composite material elements In addition to being artistic, magnesium oxide composite furniture is strong enough and has a large capacity to be used for a long time.
2.Why do we want to pre-sale?
In order to put HGHOM's new concept of environmental protection magnesium oxide furniture series into "environmental protection and practicality", it will reasonably arrange production and effectively utilize resources, and conduct a 65-day pre-sale activity, during which you will be at the best price. Buy this collection.
HGHOM also hopes that through this month-long pre-sale promotion, you can buy the most favorite furniture products that suit your home style. We will also prepare for delivery and logistics through the pre-sale event. If you like please don't hesitate, the sooner you buy the sooner you receive the goods.